One of the most jarring side effects of a spinal cord injury is the sudden loss of strength and fitness that can accompany it. It only takes a few short weeks of bed rest to cause even fully functioning muscles to atrophy rapidly; meaning that once you get back up and into a wheelchair, the first major battle of a spinal cord injury is rehabilitation and recovery, especially the process of rebuilding those arm and upper body muscles.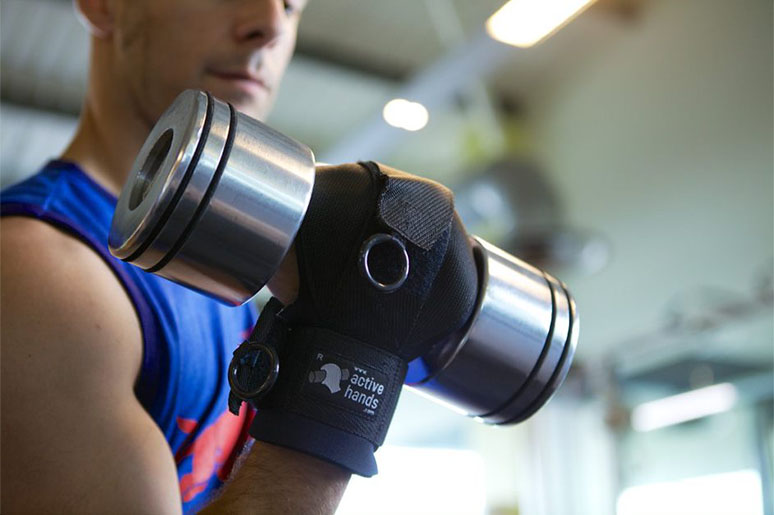 This is vital, not only in allowing us to push and control our chairs, but also in terms of transferring, washing, dressing, and virtually every other aspect of our lives going forward.
The link between regaining/retaining a certain level of fitness and living an independent life is undeniable; with this link only becoming stronger the higher your level of injury. The everyday pushing of a wheelchair can certainly help with this, but in order to truly build up those muscles and maximise our potential, we're going to need to work out!
The great thing is that this can be done anywhere – at home, outside, in the gym; and can include as much or as little equipment as you want – from the likes of weights and dumbbells to cable and pulley machines. There are also various pieces of specialist SCI exercise equipment and wheelchair sports that you can partake in, which are ideal for regaining your confidence and for social engagement with others.
However, the higher your level of injury, the lesser your function. How therefore is someone with tetraplegia (also known as quadriplegia) supposed to work out when limited arm and finger function means they are unable to grip the necessary exercise equipment?
This is where Active Hands comes in
Founded in 2007 by wheelchair user Rob Smith, Active Hands has created a line of gripping aids specifically designed for those of us with spinal cord injuries who want to access gym and fitness apparatus but struggle to do so due to our injury levels. The original and still most popular of these is the General Purpose Gripping Aid.
Using a simple combination of tough webbing, comfortable neoprene, and Velcro straps, this versatile gripping aid wraps around your hand, closing it on whatever you have placed in your palm. This allows you to firmly grip any variety of weights, handles and sports equipment, without the worry of them coming loose, making them ideal spinal cord injury exercise equipment.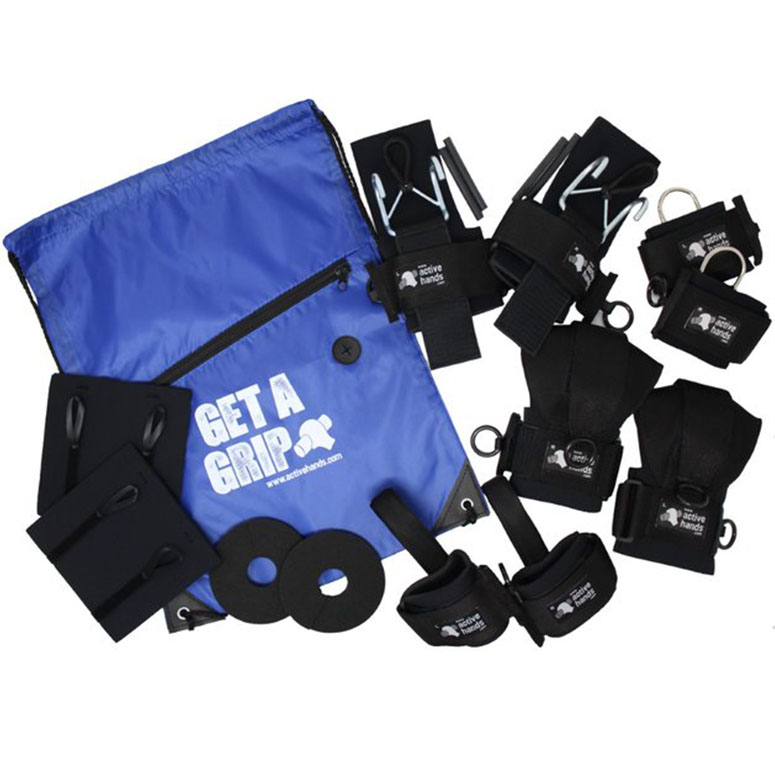 Over the years, new products have been designed, such as Looped Exercise Aids, perfect for slipping over exercise bars and rower handles; D-Ring Aids, which allow you to attach directly to the karabiner on cable and pulley machines; and Hook Aids, great for hooking onto various close-ended exercise bars, pull-up bars and handlebars.
Durable and built to last, Active Hands gripping aids are now used around the world by everyone from casual exercisers to Paralympic athletes.
Having the ability to hold onto exercise equipment and workout is a huge deal for those of us with high level spinal injuries. It allows us to push ourselves further and harder; to see what our bodies are capable of; to regain not only strength and ability, but also a level of independence we may not have thought possible. It has the potential to open up an entirely new lifestyle to us.
As a C6 tetraplegic, I remember lying in the hospital unable to lift my arms across my body without them falling. I remember barely being able to push my wheelchair across anything other than the flattest, smoothest of surfaces. I remember needing help with washing, dressing and almost every other aspect of personal care. At those points, I never imagined I would be able to live the independent life I do now. Being able to access exercise equipment and maintain a solid level of fitness has allowed myself and countless others to do this, and it could be exactly what you need too!
To see the full range of products that Active Hands stocks, including aids for cooking, gardening, personal care and more, visit the website at www.activehands.com.