In January 2016, our lives changed forever. One Saturday afternoon whilst out with my son Emile, he suffered a spinal cord stroke, just like that, with no warning!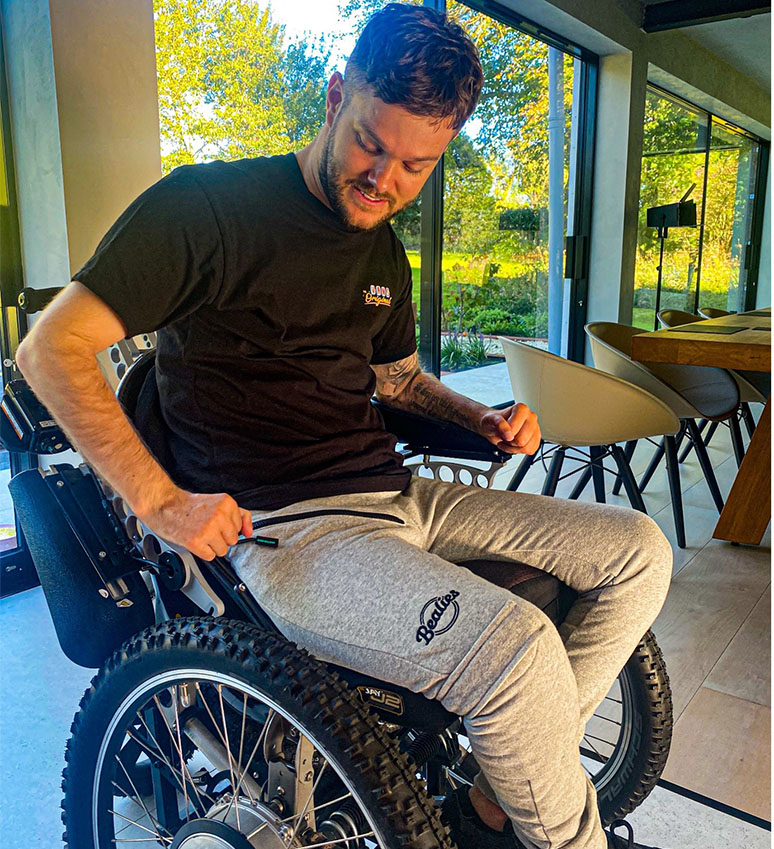 The spinal stroke left him paralysed from the chest down. Emile was in the Royal Manchester Children's Hospital for 3 months. Due to his age, Emile wasn't able to spend time as an inpatient at The Northwest regional spinal unit, however, he spent some time as a day patient for rehab.
I was amazed at how well Emile coped with this traumatic event; his resilience was astounding. Emile has no bladder or bowel function, and we must self-catheterise to empty his bladder. It soon became clear once we got into our daily routine that his clothes did not fit properly whilst sitting in the wheelchair. More importantly, the comfortable joggers that Emile liked to wear did not provide easy access to catheterise.
From Social Worker to Adaptive Wear Designer
I undertook research and spoke to a range of people including wheelchair users, carers, physiotherapists, and Occupational Therapists to learn more about the issues they faced when getting dressed or supporting someone getting dressed. With this research and my own experience with Emile, I approached The Fashion Institute at Manchester Metropolitan University.
They had been researching, with the Stroke Association, the difficulties stroke survivors face when trying to find suitable clothes upon their return to work. Students Rebecca and Melissa Everett were excited by my idea of fly front opening joggers, and they wanted to make a prototype.
The Product: Adaptive Joggers for Men & Women
Bealies' adaptive joggers have a unique opening to enable comfortable dressing and catheterising. They are higher at the back to avoid sagging whilst sitting and transferring in and out of a wheelchair to ensure everything is covered!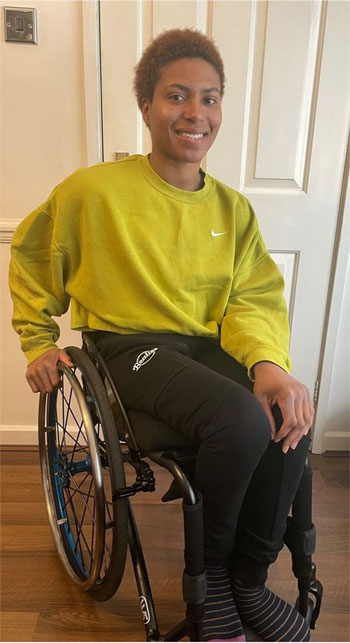 I have been working with a small focus group of people, who range from having a spinal cord injury in adulthood to people who were born with cerebral palsy. We identified that there is a difference in muscle mass in the legs for people who cannot weight bear or who have had a spinal cord injury for a long time and have lost muscle mass over the years.
Therefore, we redesigned the joggers to have a slim fit leg, which is currently fashionable, and we will also have a regular fit for people with more muscle mass on their legs, to ensure a better fit for different disabilities and all shapes and sizes.
A small run of the adaptive joggers has been made and the online store opened in September this year. I will also be selling the joggers from my unit at Broadstone Mill Shopping Outlet, Broadstone Road, Reddish Stockport, SK5 7DL.
We opened on Friday 3rd December 2021 to coincide with the International Day of Persons with Disabilities.
Bealies Adaptive Wear Testimonials
Having been a paraplegic for over 35 years, I am familiar with the search for comfortable clothing that looks and feels great but is practical for the kind of user who sits down all day. The Bealies Joggers are the holy grail of leisure wear for wheelchair users, particularly if you self-catheterise.
With the offset zip it is possible to catheterise yourself easily, without fuss. With that is the quality of materials and construction of these pants. The material used is soft and durable, the zip is large and easy to grip, the seat is manufactured with a higher back to keep you covered. There is a pocket on the front/side to keep your mobile phone where you need it.
The Bealies Joggers have been well thought out, well designed and well manufactured and you should buy yourself some today. Phil, Cheshire
I wore them on Tuesday for teaching PE. They were good as they did not fall like other joggers. Plus, the zip bit at the side helped when catheterising. The leg part fitted well, especially when transferring. Plus, I was able to pull them up while in the chair. Overall, I loved them. If I were to buy a pair, I would get the next size down. Andrew, Lancs
About Me
I am a 56-year-old mother of three children, Theo, 27, Emile, 20, and Esther,18. We live in Stockport, Cheshire. I have taken early retirement from my career as a mental health social worker and felt ready for a new challenge.
I believe in the product and feel that there is a gap in the market for casual adaptive design clothing for wheelchair users which is fashionable as well as functional.
Esther's nickname for Emile is Bealie, as it rhymes Emile, so I decided to name the business Bealies Adaptive Wear. Esther calls him fart head now, luckily, we had already named the business, otherwise, we might have been called 'Fart Head Adaptive Wear!
I am passionate about supporting manufacturing in the UK, My mother was a home machinist when clothing manufacturing in the UK was strong, therefore I have produced the joggers in the Midlands.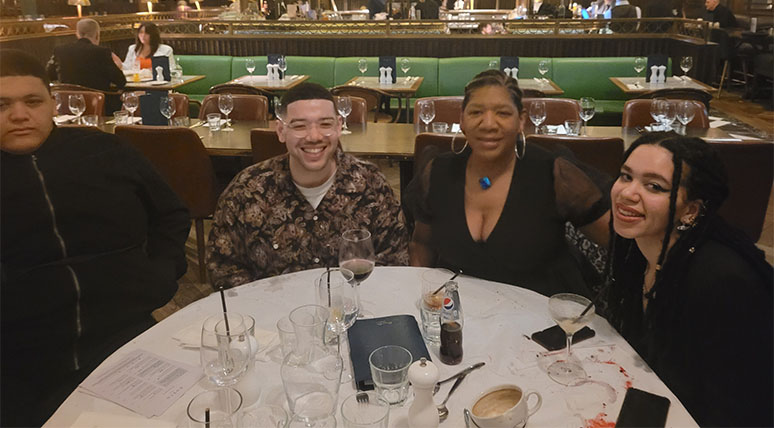 The UK Adaptive Clothing Market
In the UK there are approximately 1.2 million wheelchair users and 13.9 million disabled people. (Family resources survey 2016/17)
There has been a rise in searches on the Internet for adaptive clothing. (Global fashion search Lyst 2019).
The only mainstream designer who has an adaptive range at present is Tommy Hilfiger. However, their clothes are expensive and sold as part of a designer range which is not accessible to everyone.
The disabled market is worth £249bn. Known as the "purple pound", they remain the largest untapped consumer market. Last year, Coresight Research even estimated the adaptive clothing market would reach $288 billion in 2019.
The UK high street does not yet reflect this shift.
Unlike the US, where a handful of mainstream stores with adaptive clothing, UK retailers remain slow to enter the market. Designers must address the unmet demand for disability-friendly workwear and occasion-wear as identified in the project with Manchester Metropolitan University.
Marks and Spencer are selling an easy dressing range for children in stores and online and as mentioned above, Tommy Hilfiger has had some success with its inclusive, yet expensive, range of adaptive clothes each season. There is a clear market for my fashionable adaptive clothing and my business has the potential to the meet the demands of those looking for accessible clothing that is comfortable, convenient and looks the part.
The future for Bealies Adaptive Wear
I will be adding to the collection using the template of the fly front opening and higher back. I will be launching Bealies jogger shorts and pastel colours in the summer 2022 and I am presently trialling different materials for Autumn/Winter 2022.
I want the Bealies brand to be more inclusive for all disabled people. The range will model mainstream fashion and will be updated seasonally.
References