Pressure ulcers are among the more common risks after a spinal cord injury (sometimes referred to as pressure sores or bedsores). The good news is that you can avoid this issue with some vigilant monitoring of your body position and other preventive measures by following these pressure ulcer prevention and management guidelines.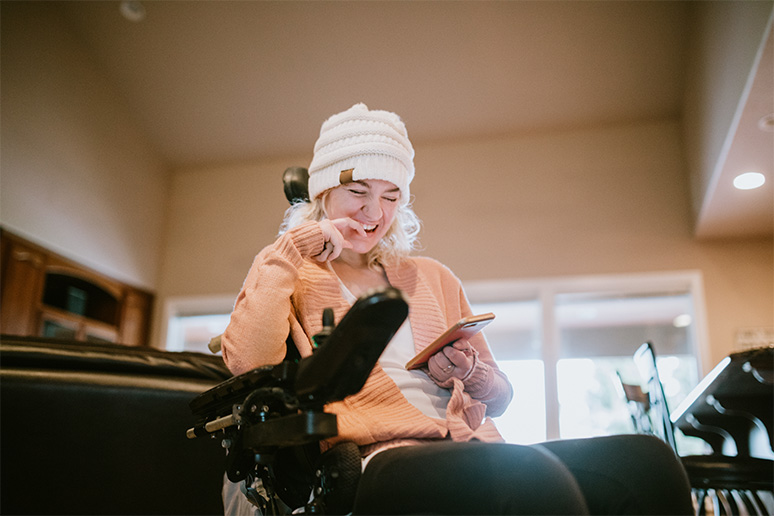 You may have some questions:
Why am I vulnerable to pressure ulcers?
What are the causes of pressure ulcers?
What can I do for pressure ulcer prevention and management?
Let's answer those questions so that you can avoid the issue and keep your skin and body healthy and avoid wider issues related to skin breakdown.
Causes of pressure ulcers with a spinal cord injury
After a spinal cord injury, you are at risk of developing pressure ulcers for one main reason — immobility. Too much time in a static position puts pressure on certain portions of your body. Naturally, your skin takes the brunt of that pressure, so it can't breathe. That translates into damage starting to develop in the underlying tissue.
Besides supporting your weight differently than before your spinal cord injury and being in certain positions over a long time, limited sensation is also an issue. You may not feel the need to shift your weight much, which puts you at risk of a pressure ulcer injury. Other typical contributing factors of pressure ulcers could be dragging your body across a surface or getting your skin wet for a long time.
Pressure ulcer prevention guidelines
Since pressure ulcers are so prevalent after a spinal cord injury, it's vital to take some proactive steps to ensure your skin and body health and prevent pressure ulcers from occurring. The good news is that 95% of pressure ulcers can be avoided by following simple pressure ulcer prevention guidelines. Some of these actions require some help and advice from your medical team but make sure your primary caregiver and family members are also aware of the risks of a spinal cord injury and pressure ulcers.
Get proper cushioning: Your healthcare team will help you obtain a wheelchair cushion and other equipment that can help reduce your risk of getting a pressure ulcer after a spinal cord injury. They may also recommend using a pillow between your legs when lying on your side to prevent your ankles and knees from rubbing. Also, check wheelchair cushions regularly to ensure they maintain their padding.
Learn how to do pressure releases: This is an important action for avoiding pressure ulcers. Your medical team likely taught you how to do pressure releases. Pressure releases take all the pressure off potentially damaged areas for a short time. Ensure you follow a regular schedule of doing pressure releases every 15 to 20 minutes when you are in your wheelchair.
Regularly check your position and skin: Inspect your skin in key areas twice a day with a mirror or have someone do it for you. Also, shift your position in bed and your wheelchair frequently. Don't sit for a long time on wet clothes or moist surfaces; avoid urine or stool exposure.
Maintain a healthy weight and eat a nutritious diet: Many people struggle with weight gain after a spinal cord injury. Being overweight can contribute significantly to developing pressure ulcers since more pounds add stress to body parts as you sit or lie down. That's why it's important to watch your calories, eat a nutritious diet, and drink adequate fluids, all of which promote healthy skin and overall wellness. This should be complemented with simple daily wheelchair exercises to help burn calories, maintain mobility and improve your quality of life.
Sweat the small stuff: Because of lack of sensation, even simple mishaps — bumps, scrapes, bruises — can cause a pressure ulcer. Dragging your skin across a surface while transferring in and out of your wheelchair is another typical cause. Be very aware of your movements and work with your healthcare team and caregiver on the proper wheelchair transfer technique, including using a transfer board, if needed.
If you require further guidance, our spinal cord injury support team are here to assist with our dedicated spinal injuries services and answer your SCI questions via email or contact us now on 0800 373 858.
References:
Bedsores (pressure ulcers) - Symptoms and causes - Mayo Clinic
Pressure Ulcers in Spinal Cord Injury Patients: Causes and Management (flintrehab.com) Reeve Paralysis Resource Guide
Pressure Ulcers: 12 Ways to Prevent Them
Hollister US How to Prevent Pressure Ulcers or Bed Sores (verywellhealth.com) SCI_skin2.indd (washington.edu)