Adaptive driving equipment grants you the opportunity to achieve greater mobility after a spinal cord injury. Discover adaptive driving solutions to get back on the road again.
Adaptive driving is a great opportunity to recover a sense of normality after sustaining a spinal cord injury. Being behind the wheel often gives us a sense of freedom and independence. Getting back on the road helps many drivers with paralysis to feel more integrated and able to continue with normal life.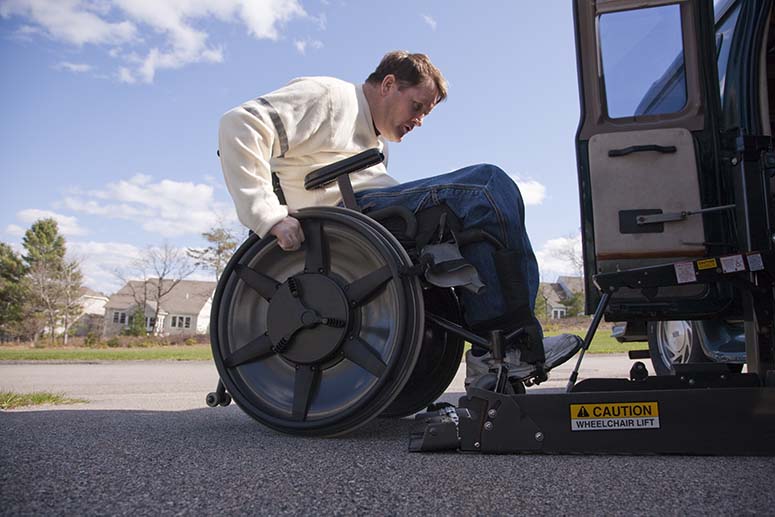 If you're looking to get back on the road, it's important to do some research and recruit the help of your occupational therapists and adaptive driving experts. To get you started, here is an overview of what it takes to start your adaptive driving journey.
Collaborate with an adaptive driving specialist
First of all, it's vital to be approved to explore driving by your occupational therapists. Once cleared for driving, it's time to work with a driver rehabilitation specialist to evaluate your skills and ability to sit behind the wheel and navigate everyday challenges on the road. Your occupational therapist may be able to refer you to a qualified driver rehabilitation specialist (or contact the resources listed below).
The expert will
· Evaluate your physical abilities and limitations, such as muscle strength, flexibility, range of motion, coordination, reaction time and vision
· Assess other crucial factors like decision-making and judgment abilities
· Judge your ability to operate adaptive driving equipment, such as hand controls for accelerating and braking
· Produce a report outlining adaptive driving requirements and restrictions, as well as recommended vehicle modifications
Get your adaptive driving vehicle
After your evaluation, your driver rehabilitation specialists should be able to refer you to mobility equipment dealers that can sell you a new car with the adaptive driving gear you need. Another option is modifying your existing vehicle.
Of course, it's also vital to ensure that the vehicle you're considering can accommodate your wheelchair easily. The experts can help you with this as well. If you choose a van, they can make sure it's equipped with the proper ramp attachments or chair swivels.
You'll find the process is not unlike buying a new car under any other circumstances. However, adaptive driving vehicles or modification equipment can be expensive, with new modified vehicles demanding luxury car prices. That makes research even more important, so you can find the best deals.
If you need financial assistance, health insurance or worker's compensation reimbursements may be available to help offset the high costs. Also, other financial assistance, such as grant programmes from non-profit groups, may be available. It is possible to apply for VAT relief if you meet certain eligibility criteria and some vehicle manufacturers also offer rebates or special discounts. Work with your adaptive driving dealer and other experts to identify all potential sources of financial assistance.
Get your driver's evaluation
After your spinal cord injury and following your adaptive driving modifications, you'll need to obtain a valid provisional licence or hold a full driving licence to receive an on-the-road driving evaluation.
It is against the law to discriminate based on disability, so you can't be denied the opportunity to apply for a driving or provisional licence. The results of your driving test or assessment will determine whether or not you're allowed to drive – as is the case for everyone else. Once you've passed your test, you'll be issued with a full driving licence or driving licence with restrictions. This outcome will depend on the adaptive driving equipment – such as hand-operated accelerators and brakes – that you'll be operating.
So, with a little research, a little help from the experts and a driving licence test passed, you'll be on the road again, enjoying your newfound sense of independence!
Adaptive driving resources
Driving Mobility
Disabled Motoring UK
Queen Elizabeth's Foundation for Disabled People (mobility support and advice, driving assessment)
Scope (financial assistance for vehicles and driving lessons, tax exemption, VAT return and blue parking badges)
Resources: